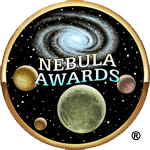 The Science Fiction Writers of America have just announced the shortlist for the 2011 Nebula Awards, which includes the
Ray Bradbury Award for Outstanding Dramatic Presentation
.
The Bradbury nominees are as follows:
Attack the Block, Joe Cornish (writer/director) (Optimum Releasing; Screen Gems)
Captain America: The First Avenger, Christopher Markus, Stephen McFeely (writers), Joe Johnston (director) (Paramount)
Doctor Who: "The Doctor's Wife," Neil Gaiman (writer), Richard Clark (director) (BBC Wales)
Hugo, John Logan (writer), Martin Scorsese (director) (Paramount)
Midnight in Paris, Woody Allen (writer/director) (Sony)
Source Code, Ben Ripley (writer), Duncan Jones (director) (Summit)
The Adjustment Bureau, George Nolfi (writer/director) (Universal)
I confess to only having seen a few of these, although I know of most of them. I personally found "The Doctor's Wife" disappointing, and have a feeling that it is the novelty of Neil Gaiman writing for
Dr Who
that drew attention to it, rather than the quality of the work itself. (We saw a similar phenomenon when Richard Curtis wrote an episode of
Dr Who
, which was neither the best
Who
episode of its season nor the best TV writing Curtis had ever done.)
I don't for one minute think that this award should in any way reflect what Bradbury would like, but suspect that either
Hugo
or
Midnight in Paris
would be more his cup of tea.
Full details of the Nebula nominees can be found on the
SFWA website
. Previous winners are listed
here
.
-------------------------------------------------
Today I have discovered a whole pile of comments that people have submitted to various blog posts I made over the last year. For some bizarre reason, I hadn't been notified of these comments, and so I was unaware that they were awaiting moderation. If you have posted a comment but never seen it appear, I offer you my sincere apologies.
I think I have now fixed the problem (which seems to be due to Blogger "forgetting" my email address, even though it clearly
hasn't
forgotten it), so comments and responses should appear more swiftly in the future.
Meanwhile, if you'd care to scan through the old posts, you might well find that old comments have now appeared and been responded to.