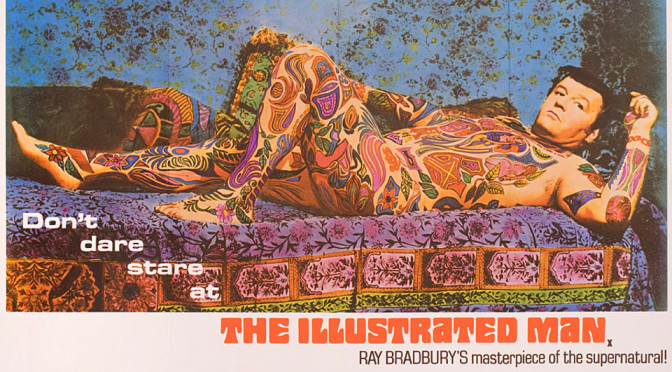 I always enjoy joining the gang from the podcast series
Take Me To Your Reader
- and today my latest appearance goes live. The discussion this time centres around Ray Bradbury's
The Illustrated Man.
The Illustrated Man
has a complex history. Bradbury first published a short story with that title, and shortly afterwards he published a short story
collection
with the same title... but the collection didn't include the short story! Instead, he took his tattoed-man character out for another stroll, and used him to provide a framing device for the other short stories in the book, using the conceit that each story dramatises one of the man's tattoos.
Many years later, the short story
was
incorporated into the book, but only in some editions.
In the early 1960s, Bradbury wanted to turn
The Illustrated Man
into a film, and wrote a full screenplay. Unfortunately, it became another of Bradbury's "lost films". But later in the decade, a completely different script was used for the film that
was
made. Starring Rod Steiger and his then wife Claire Bloom, the movie is a portmanteau film which adapts three of the short stories from the book - with Steiger and Bloom inexplicably playing different characters in each story.
You can find out what I think of the film by listening to the podcast:
http://pavementpodcast.com/podcast/tmtyr-episode-81-lighter-than-the-movie-the-illustrated-man-feat-dr-phil-nichols/